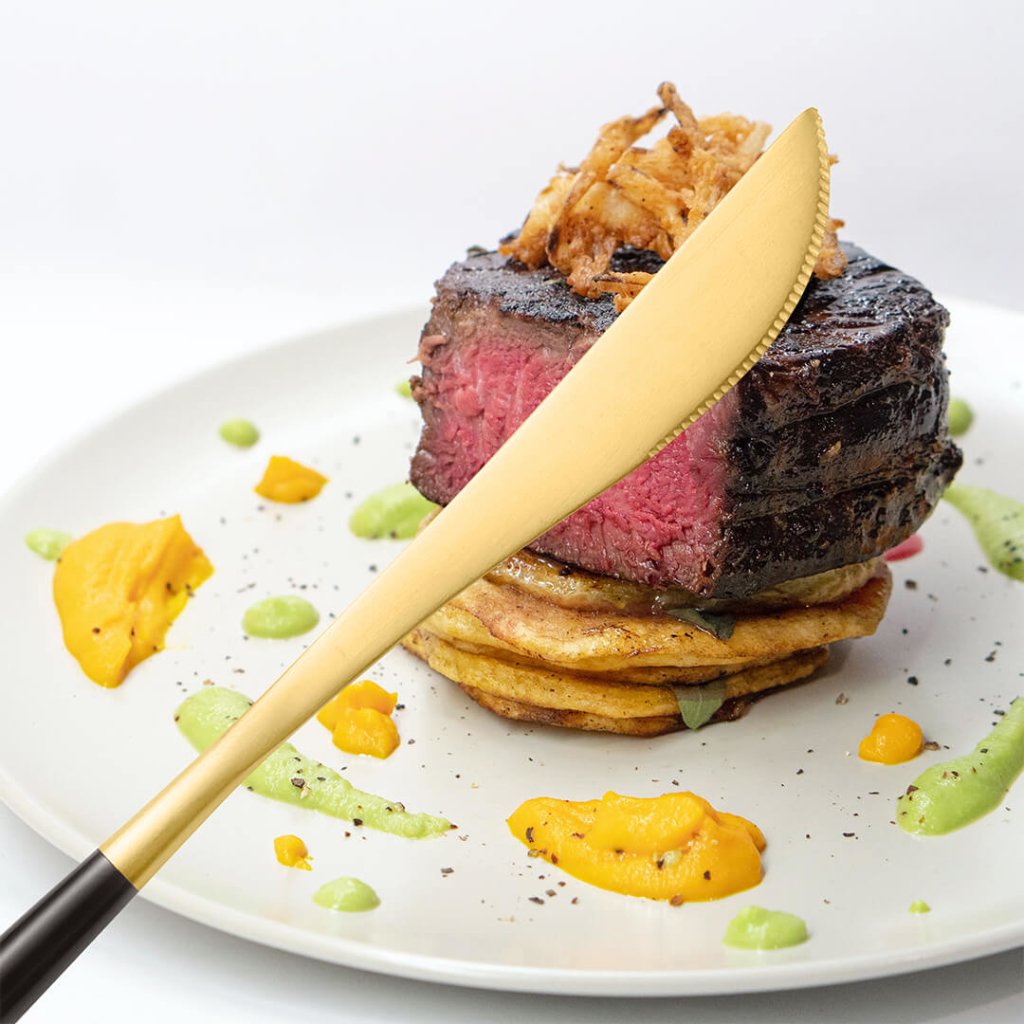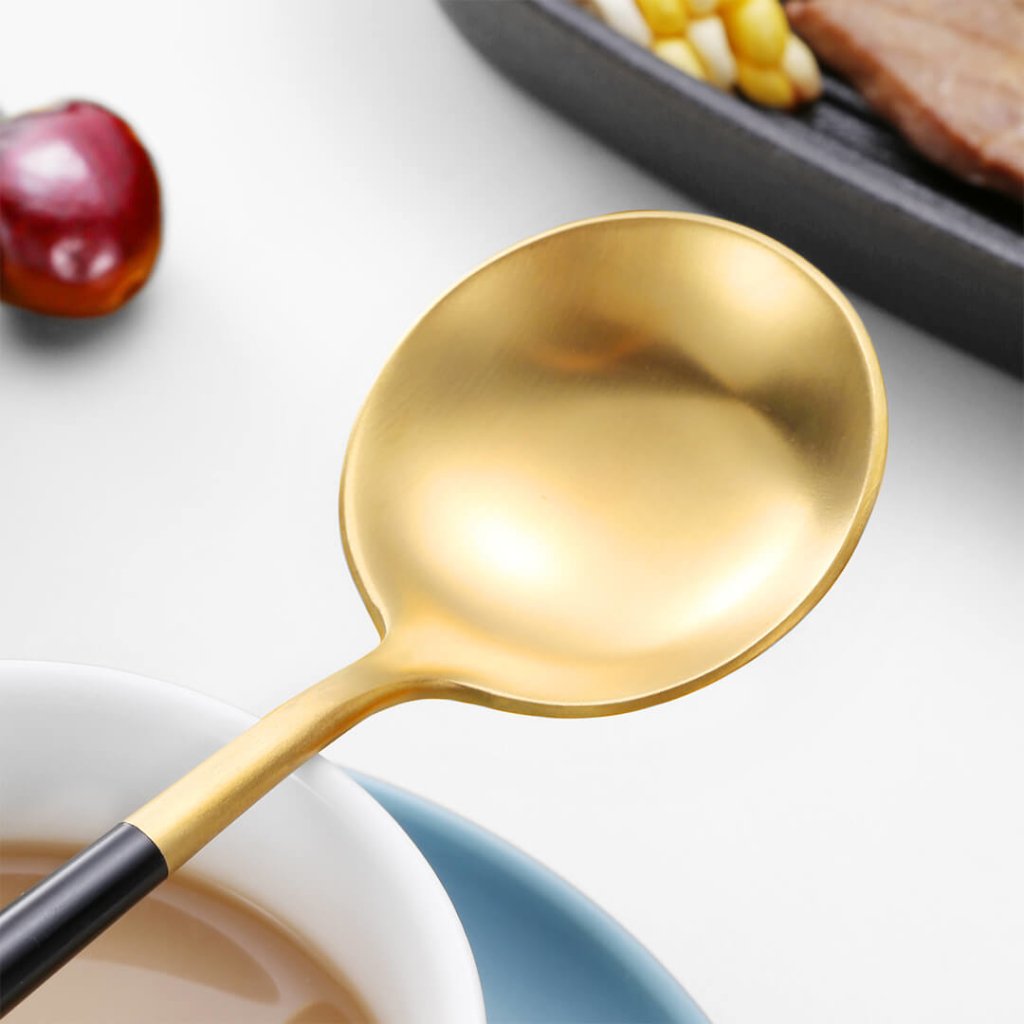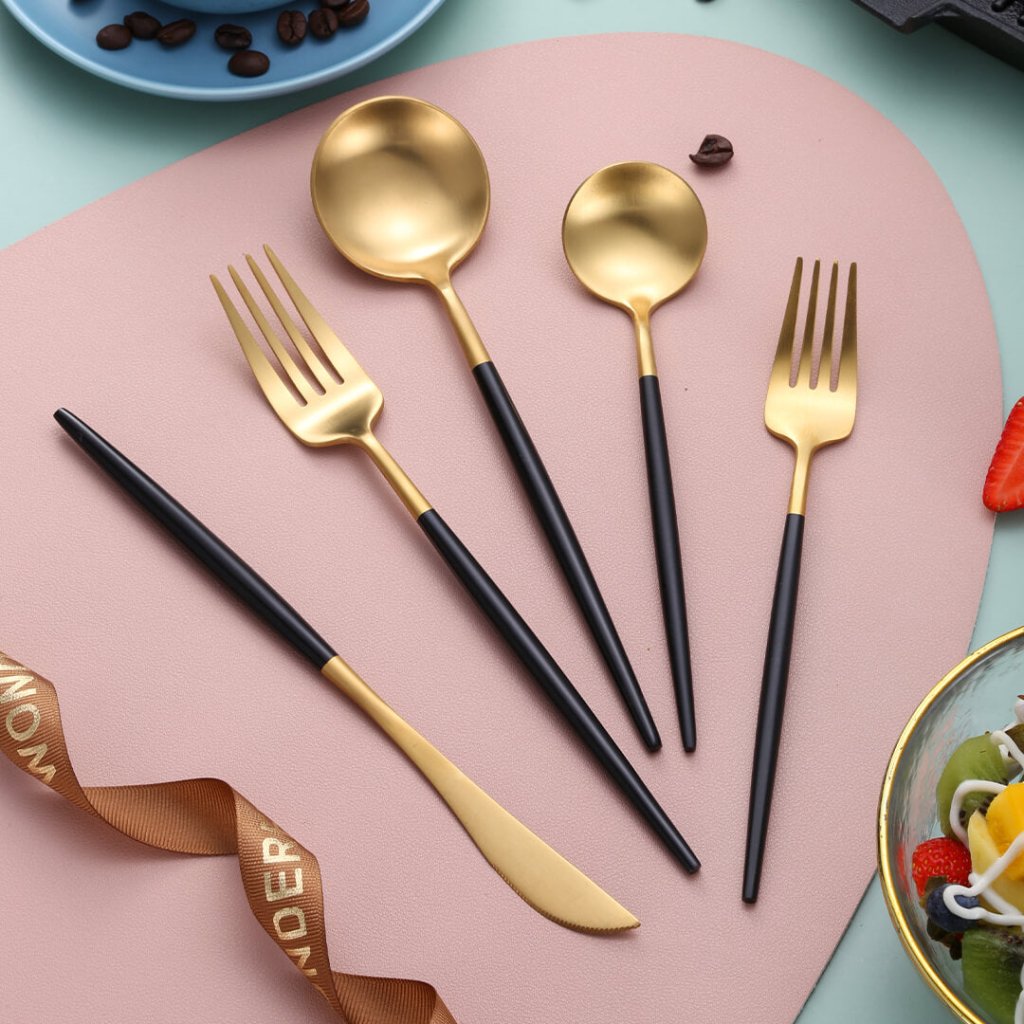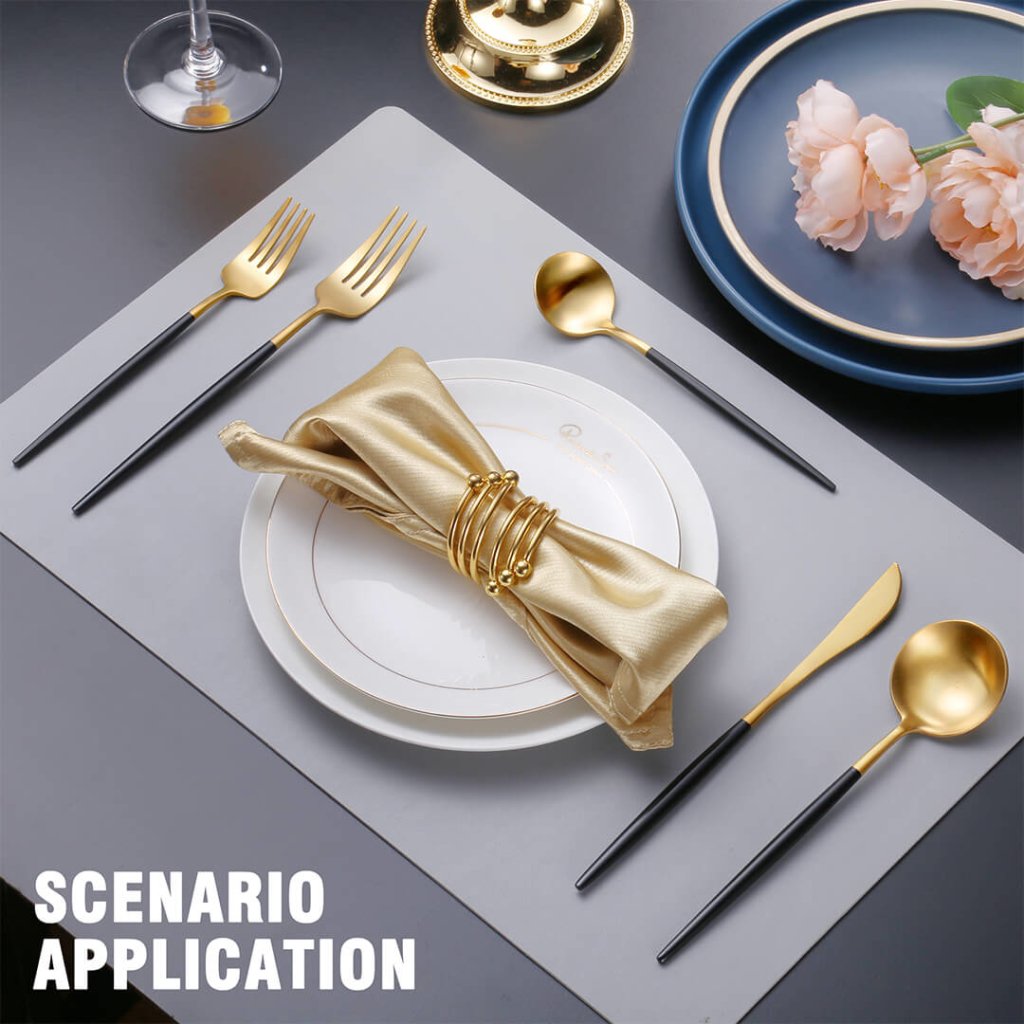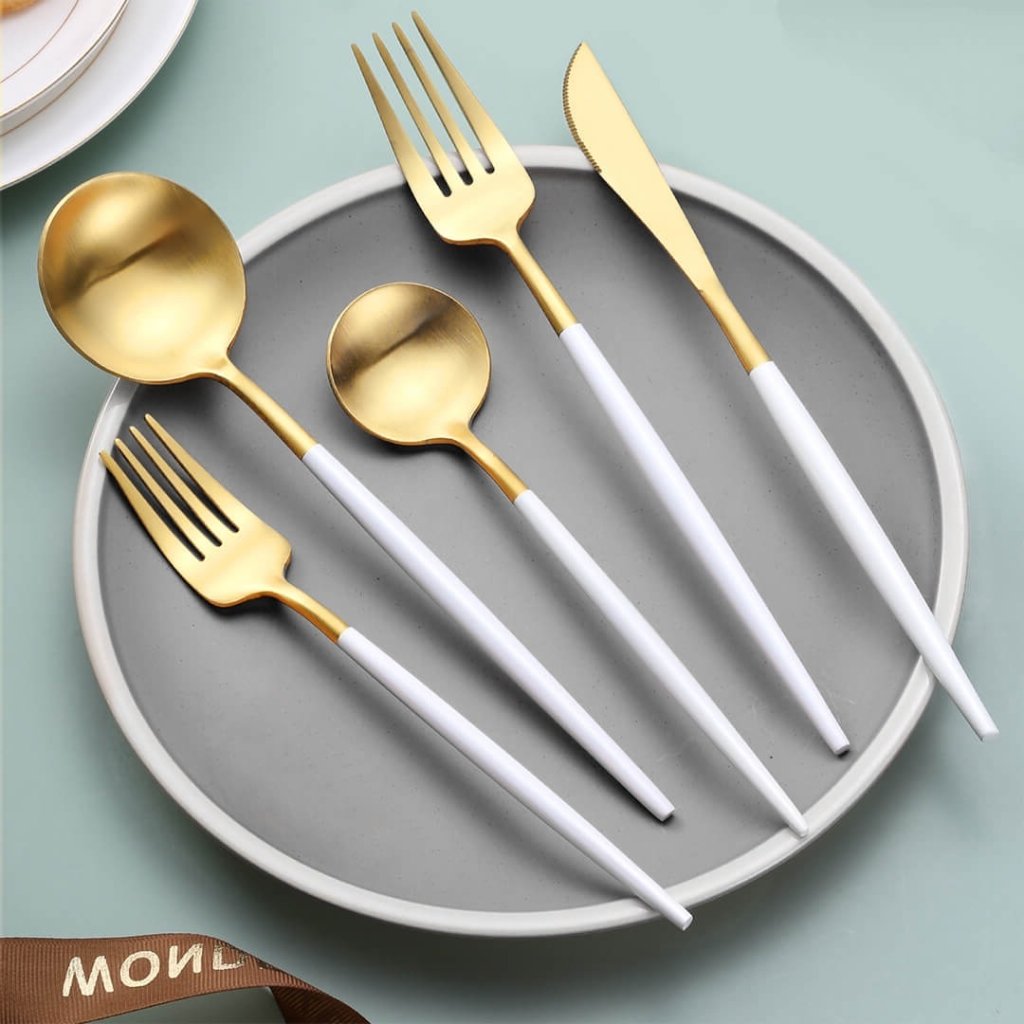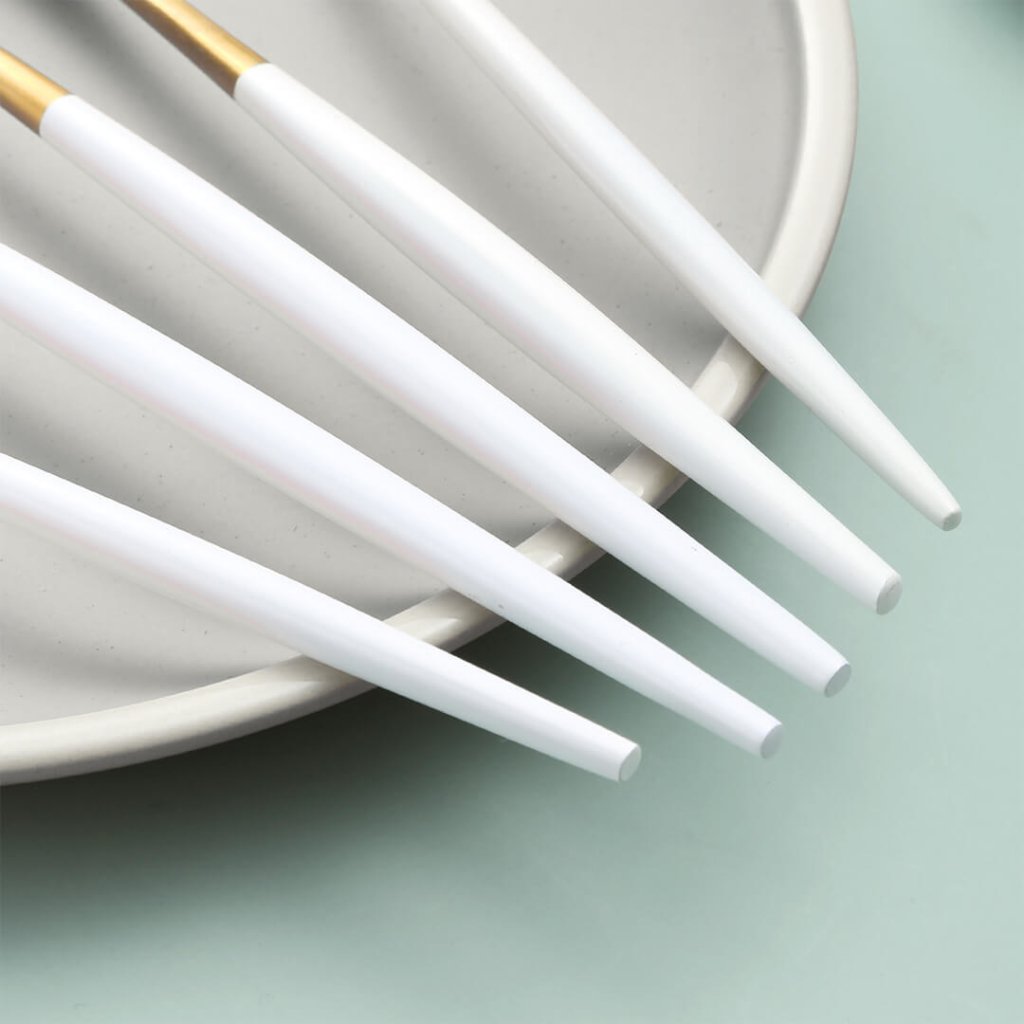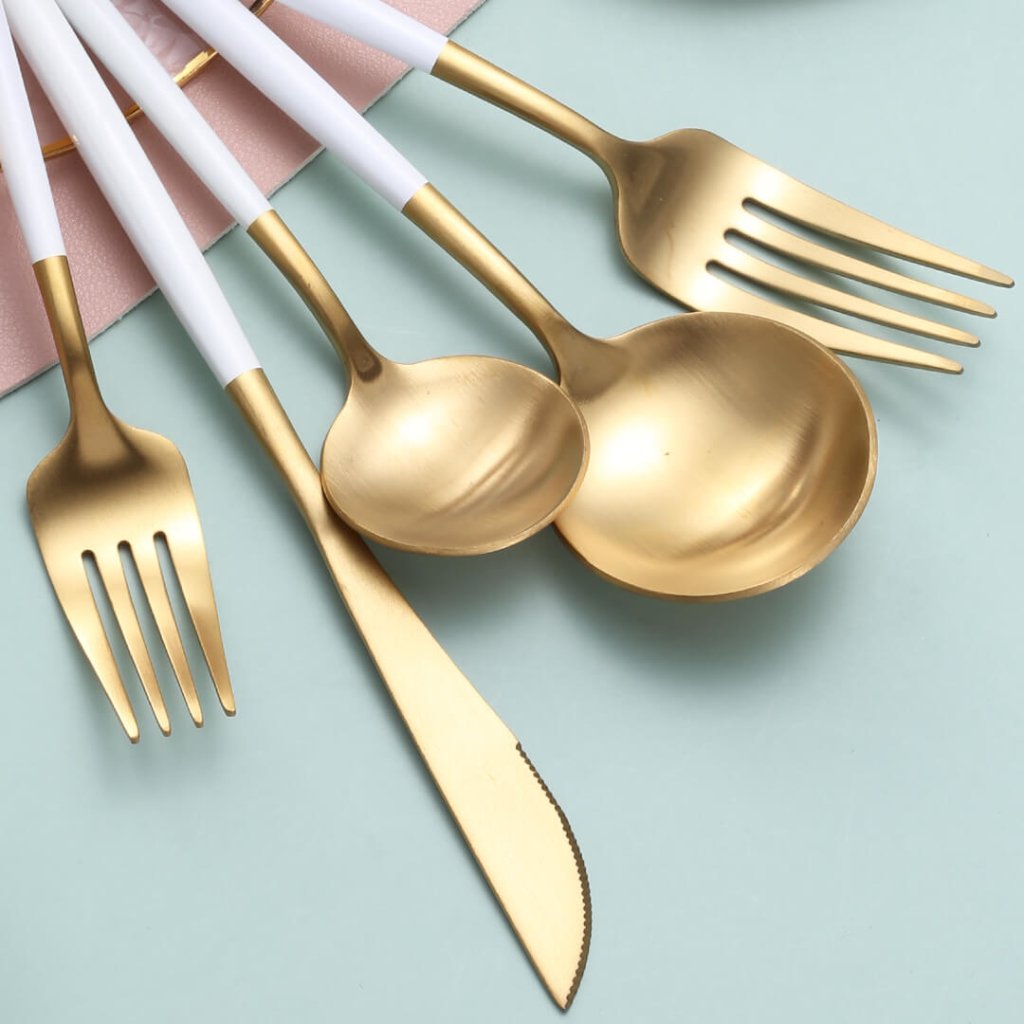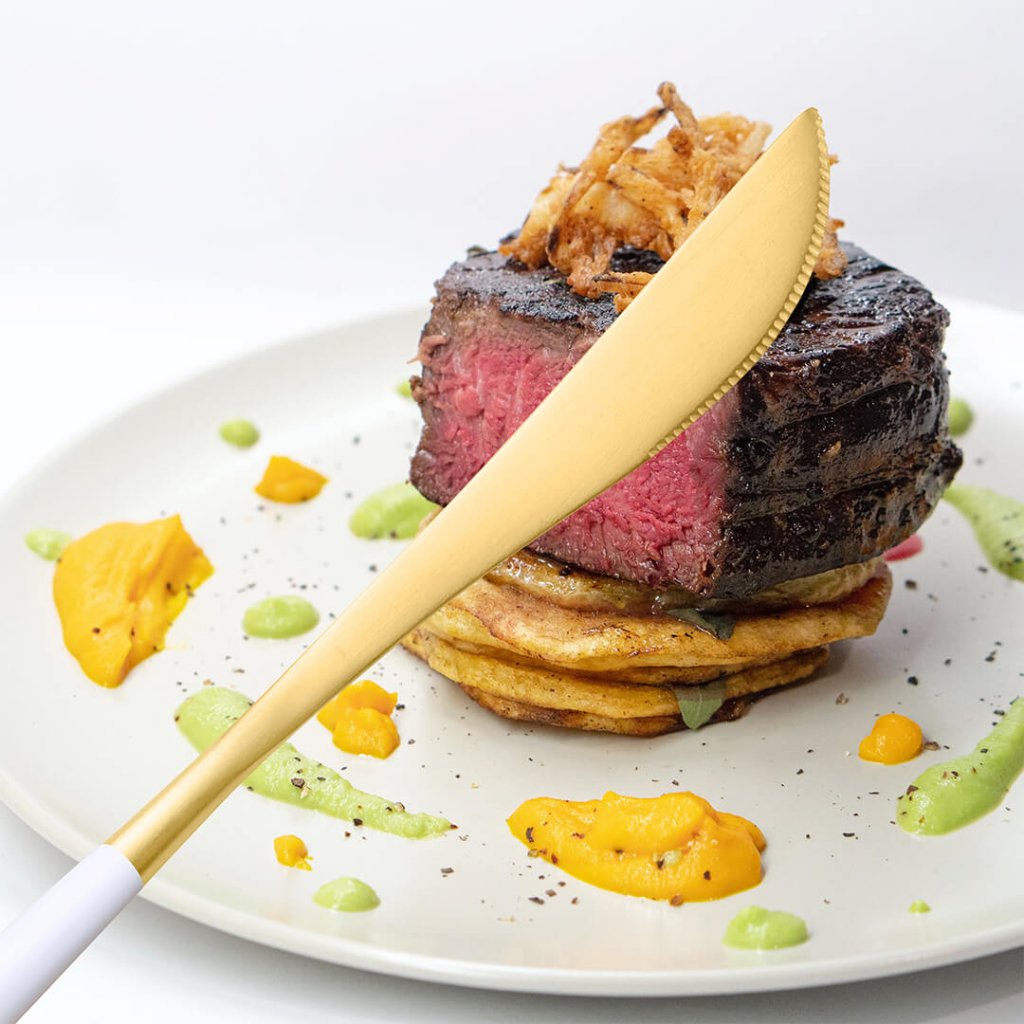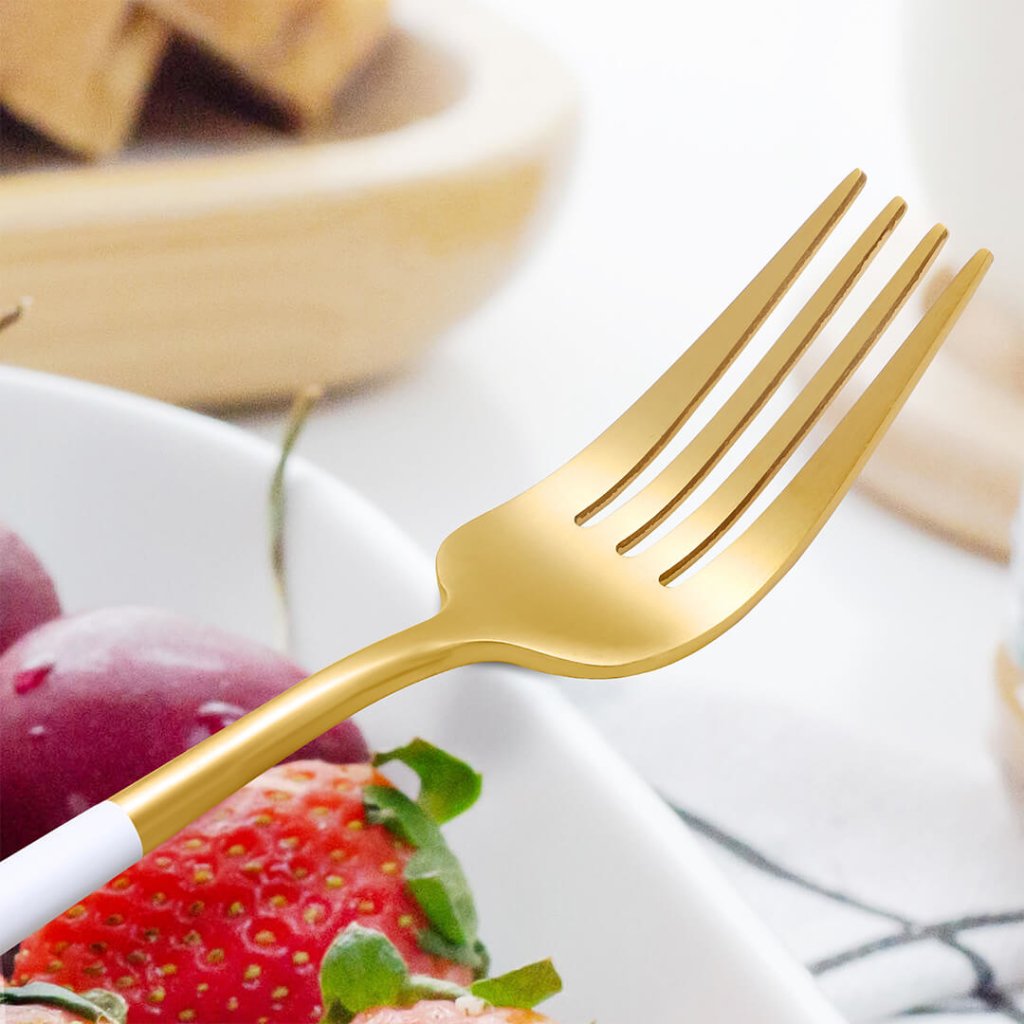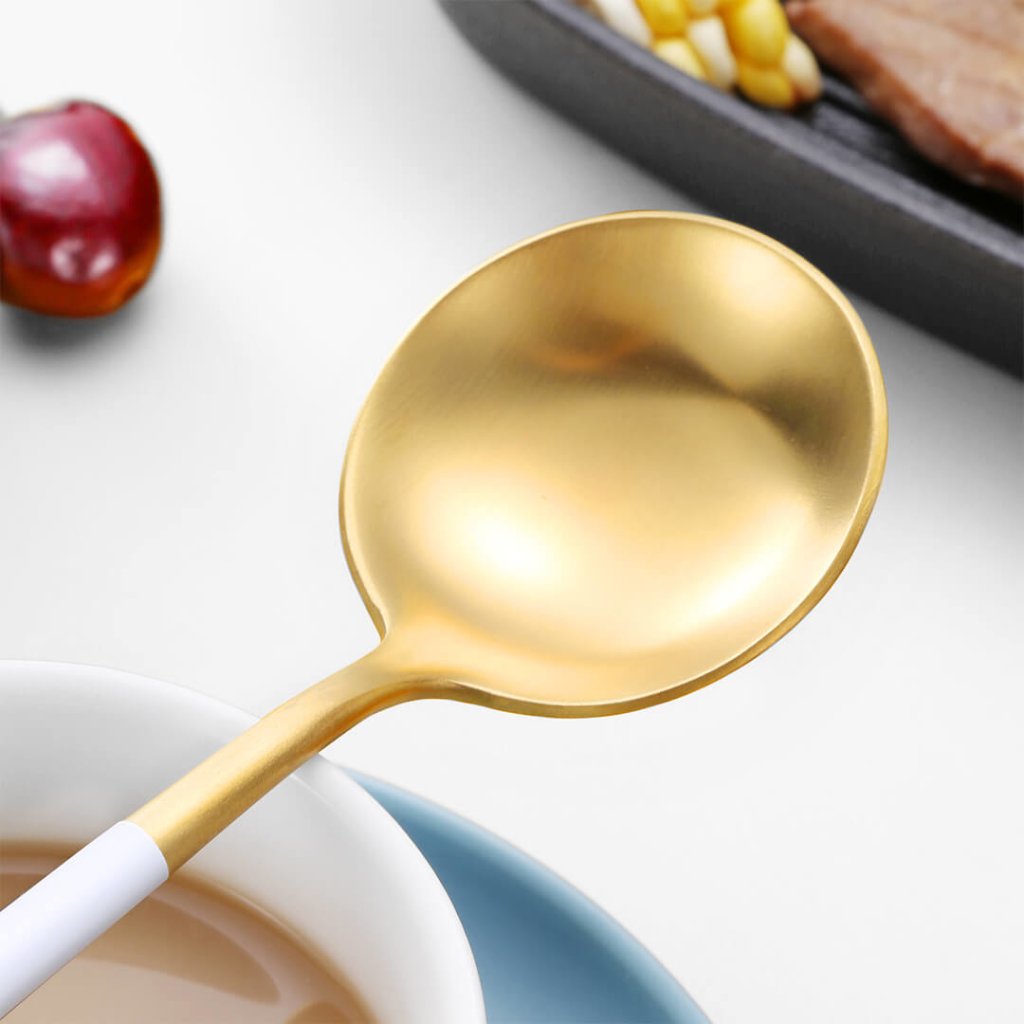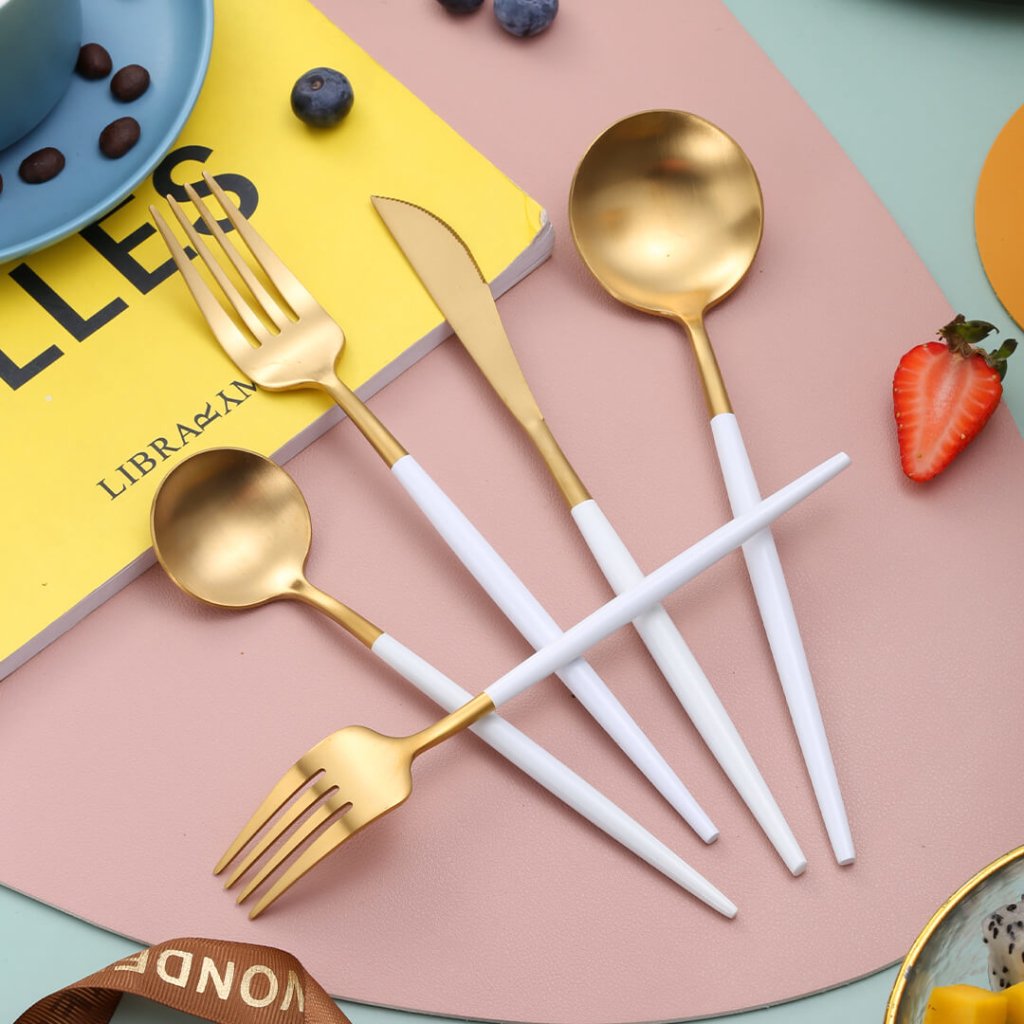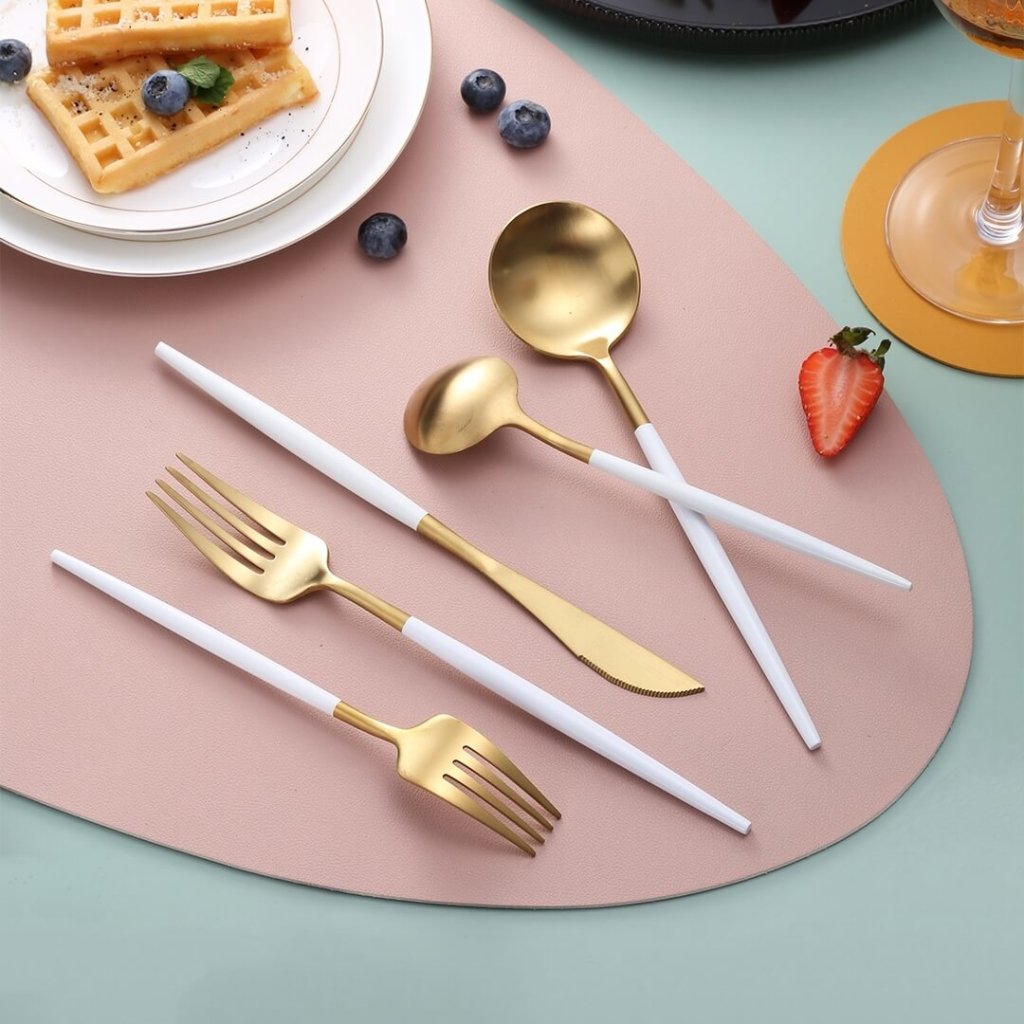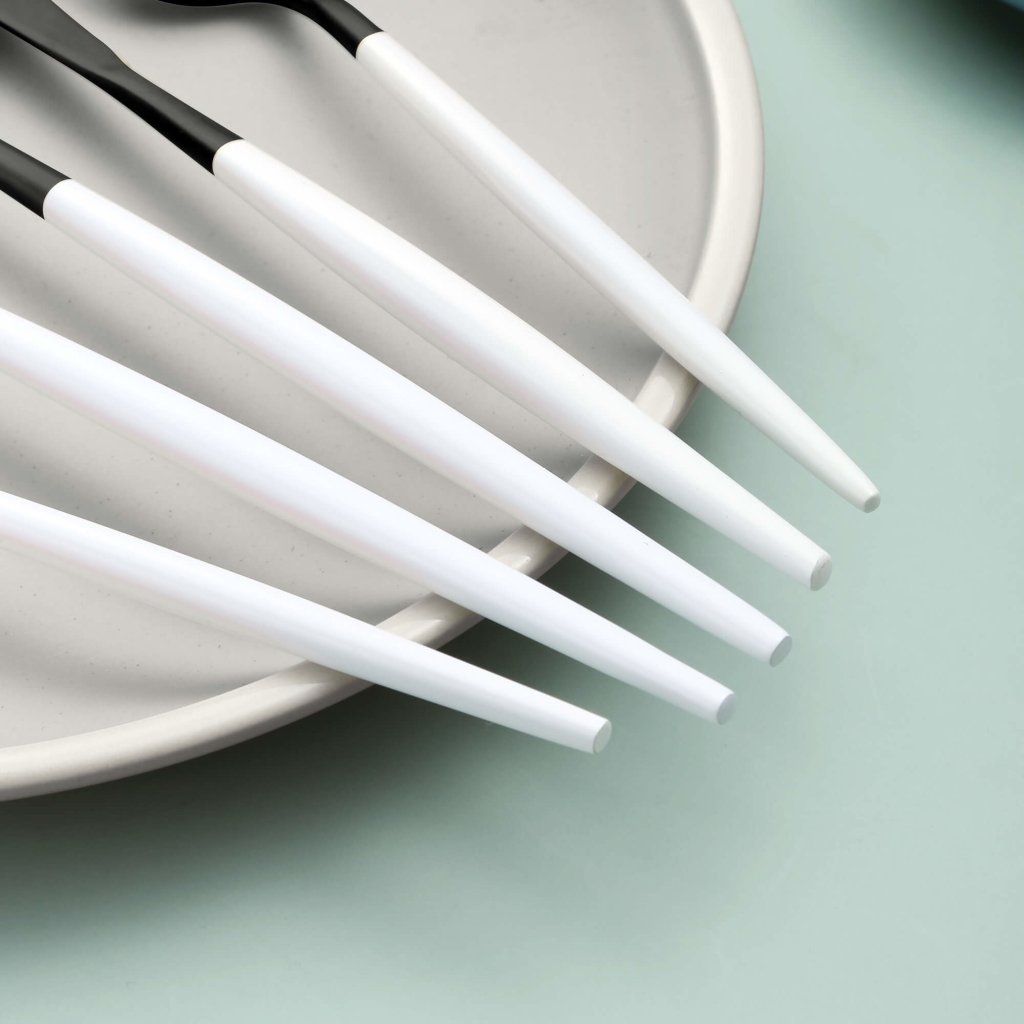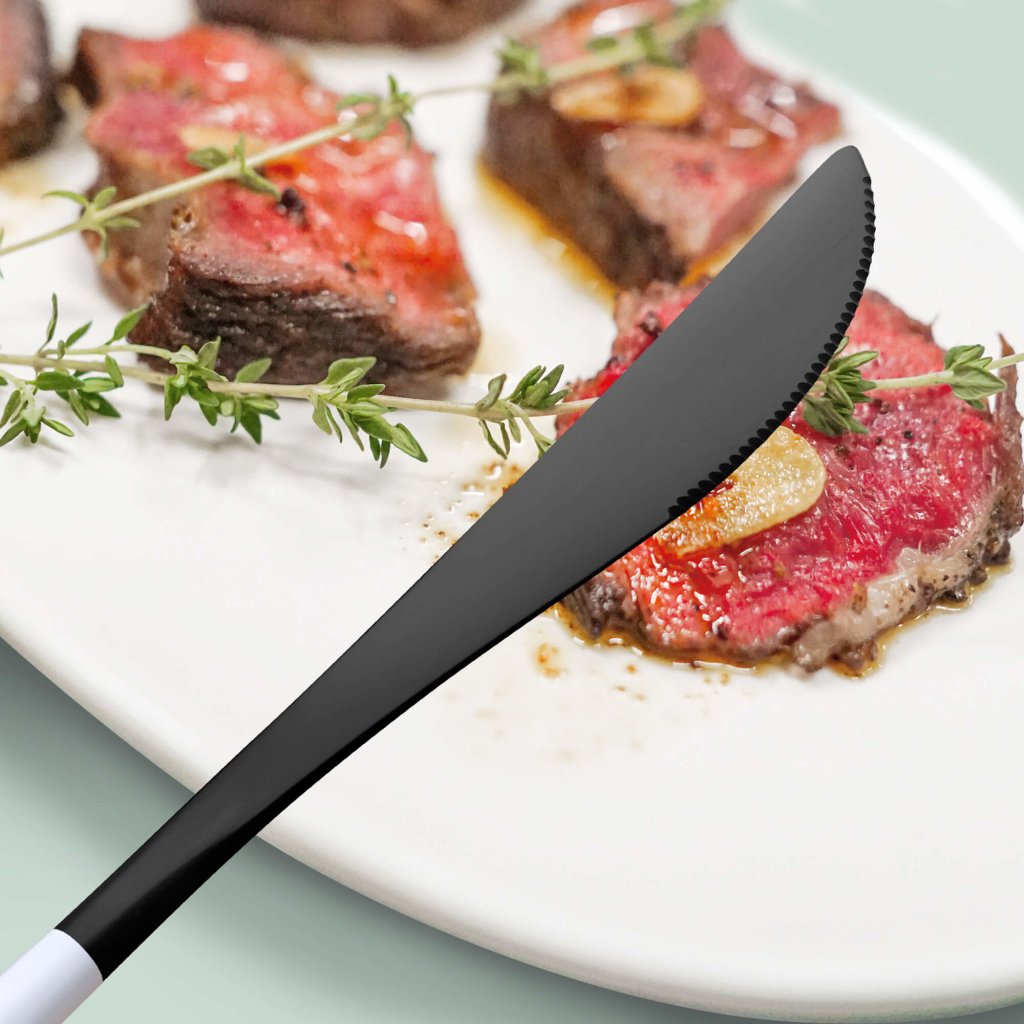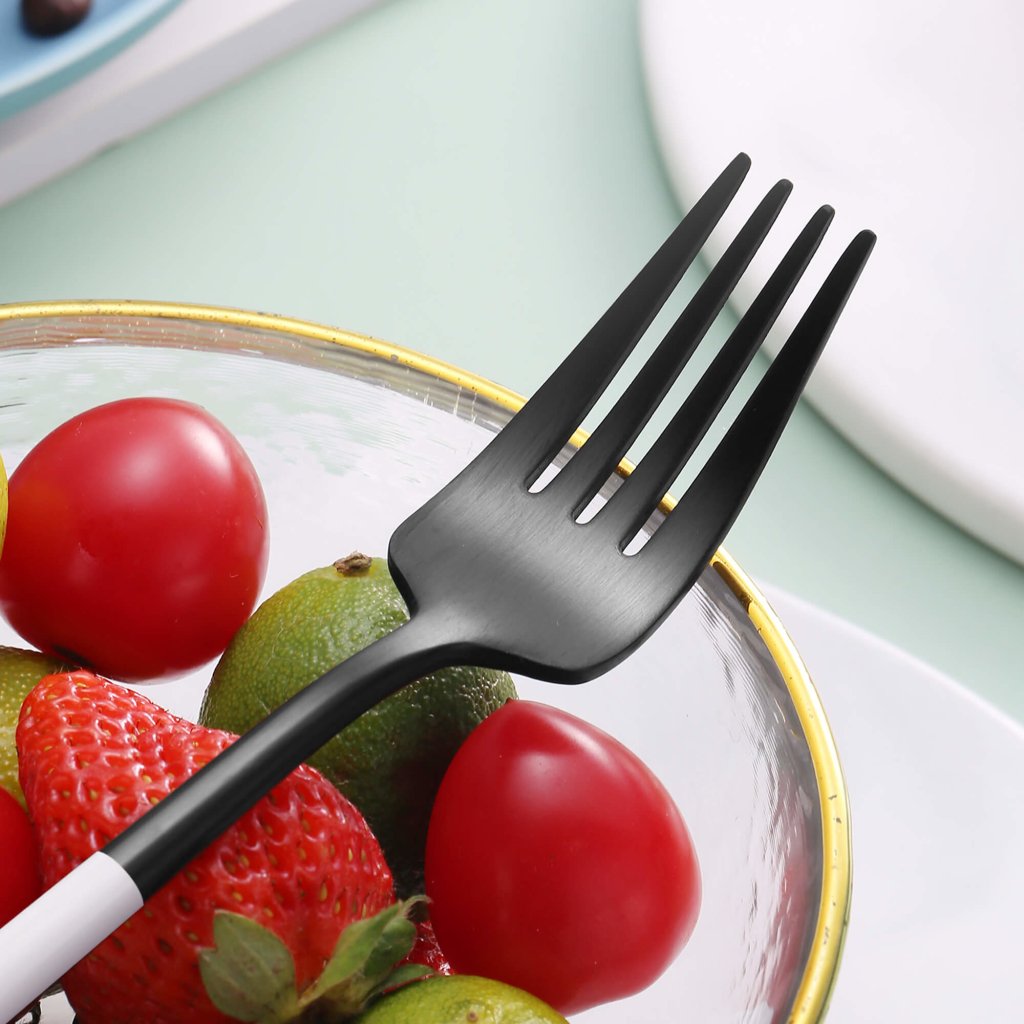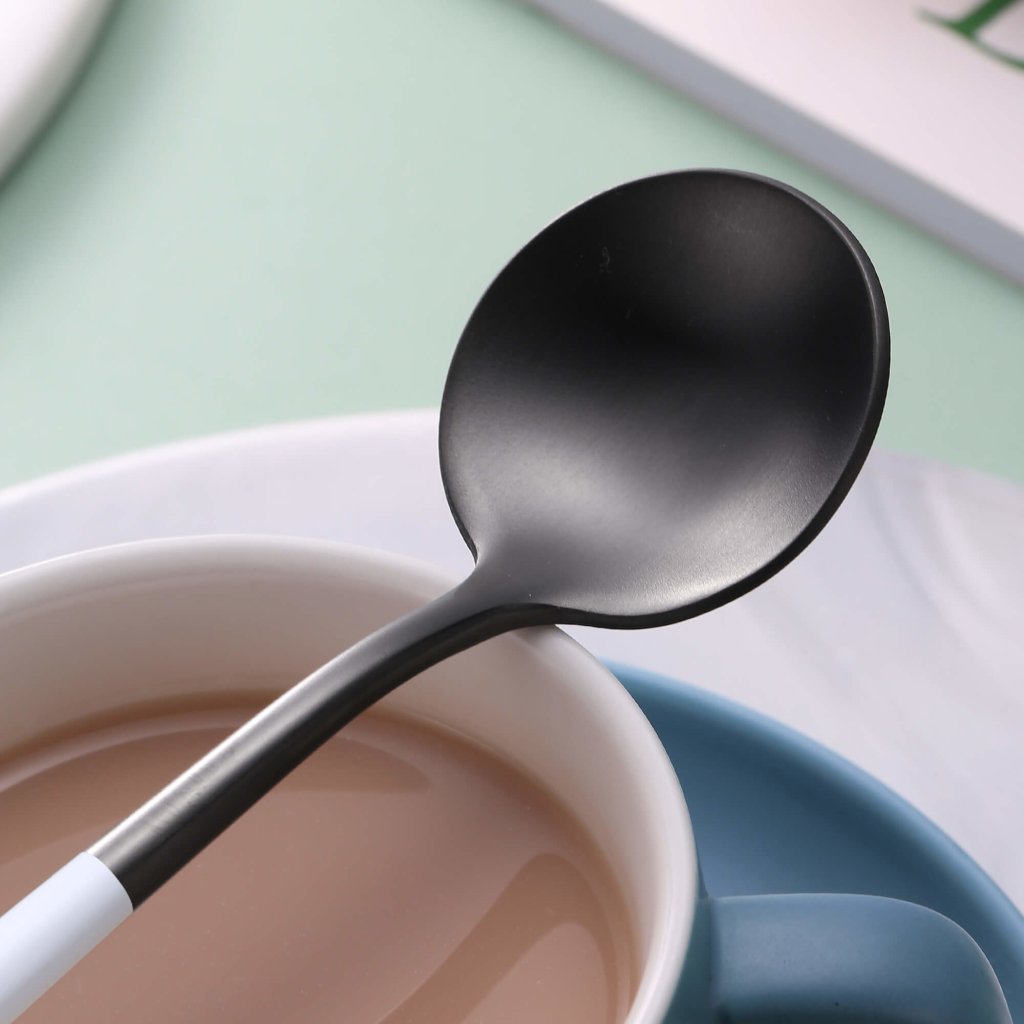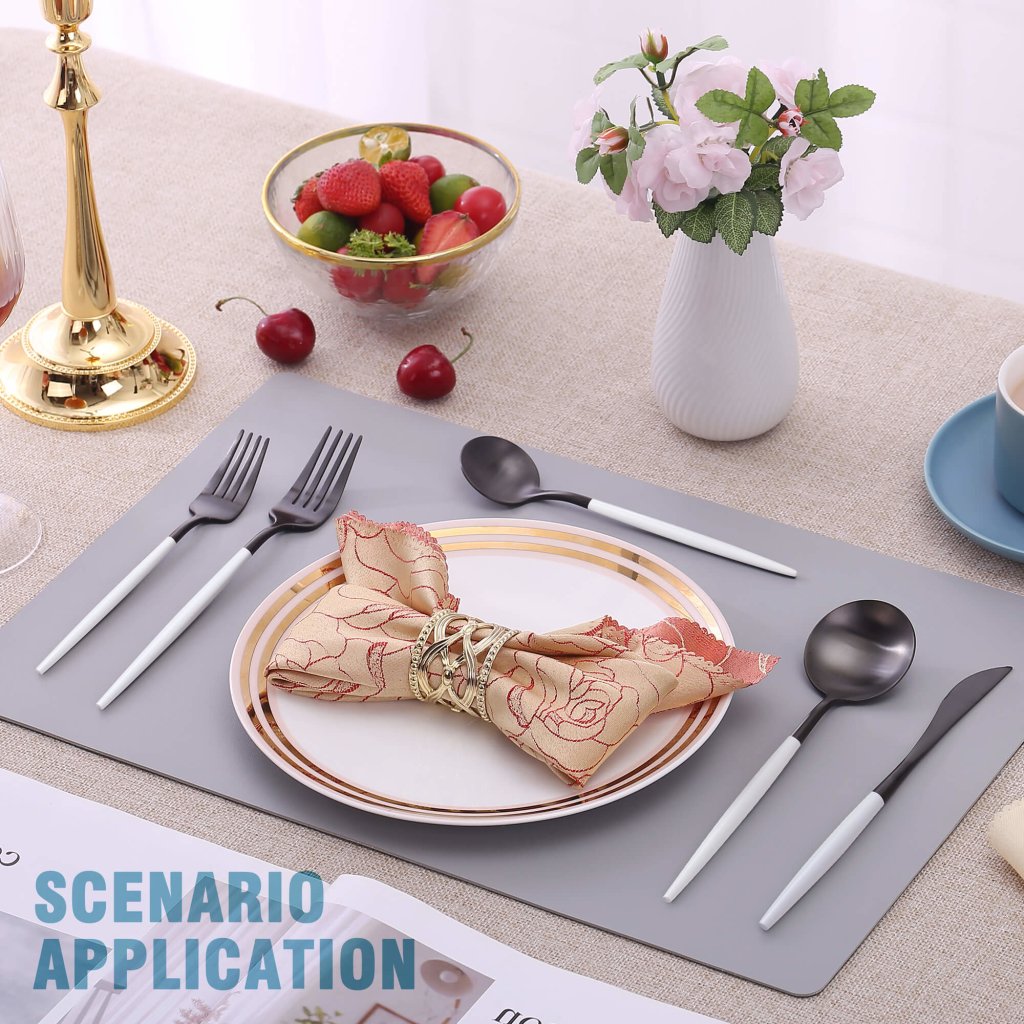 French Flatware
Take a further 20% off over $100+ (Code CM20)
For cart value $200+, get 30% Off (Code CM30)
COLOR:
Matte Black and Gold
SIZE:
20 Pieces (4 Person Set)
Free Fast Shipping

18/10 Stainless Steel Premium Materials

Dishwasher Safe

30 Day Warranty & Return
Material: 18/10 stainless steel with titanium-plated matte finish
Dinner Spoon – 8.2 inches/ 20.8 cm, 2.6 oz/ 74 g
Dinner Fork – 8.5 inches/ 21.5 cm, 2.2 oz/ 62 g
Dinner Knife – 8.5 inches/ 21.5 cm, 2.1 oz/ 60 g
Dessert Spoon – 6.9 inches/ 17.7 cm, 1.4 oz/ 40 g
Salad Fork – 7.0 inches/ 17.7 cm, 1.4 oz/ 40 g
Your purchase makes a difference.
When you order today, we'll donate 1% of your fee to help businesses reduce waste and promote sustainability.
*
Order will be fufilled within 24-48 hours. Shipping from US facilities
Order will be fufilled within 24-48 hours. Shipping from US facilities
[ HIGH-QUALITY ] Constructed from Durable 18/10 Stainless Steel, this flatware set will reduce the rusting time and be more resistant to bending. The surface is vacuum-plasma coated with food-grade precious metals, giving it an Imperial Noble Temperament.
[ MINIMALIST DESIGN ] Streamlined design features a heavy hand and simple elegance.
[ DURABLE & SAFE ] Built with high-quality rust-resistant stainless steel that is durable and healthy for everyday use; Dishwasher Safe.
[ SATISFACTION GUARANTEE ] We guarantee satisfaction and offer friendly after-sales service for every order. Get in touch with us if any issues arise.
Dine in style with our classy Minimalist / French Flatware.
Other Premium Brands
Lemeya
Amazon Flatware
Price
(20 Pcs Set)
$200 to $900
Under $80

$35 to $70+
Durability
Last for years or a lifetime
Endure for years with dure care
May be prone to scratching, peeling, and fading.
Material
18/10 Stainless Steel
18/10 Stainless Steel
18/0 or 18/8 Stainless Steel
Plating
Titanium-Plated (50 to 100+ cycles plating)
Titanium-Plated (200+ cycles plating)
Entry-level Titanium-Plated (20 cycles plating)(peels easily)
Weight
Premium weight, Depends on the design
Premium weight & expensive feel
Some may be thinner and lightweight, in order to reduce costs
Care Guide: Before your initial use, we kindly advise rinsing the flatware with warm water and a gentle dishwashing liquid. After each use, it is essential to promptly cleanse the utensils using a soft sponge, while refraining from the use of hot water, to eliminate any lingering residues or food stains as expeditiously as possible.

While some of our esteemed clientele have employed dishwashers for this flatware without encountering issues, we must clarify that we cannot fully ensure that the dishwasher will not impact the exterior finishes, considering the manifold factors at play (such as the dishwasher type and detergent used). Thus, we highly recommend adhering to the method of handwashing, as it is most conducive to preserving the impeccable exterior of the flatware.

However, suppose you choose to employ a dishwasher. In that case, we suggest utilizing dishwashing programs that operate at a low temperature of 104°F / 40°C or lower, as higher temperatures might compromise the exterior quality of the flatware. Take the opportunity to ascertain if your dishwasher features an eco-friendly program, functioning at the aforementioned lower temperature. Additionally, we propose a preliminary test by subjecting 1 or 2 flatware pieces to the dishwasher over an extended period (approximately 1 to 2 months) before exposing the remaining pieces to this method.

During the washing process, use mild dishwashing liquid and eschew detergents with citrus-scented, chlorine-based, or anti-limescale properties. Refrain from using abrasive sponges or scrubs, ensuring a gentle touch. After each wash, diligently dry the flatware with a soft towel to prevent unsightly water marks, discoloration, or filmy residue. In the storage realm, select a dry and well-ventilated abode for your flatware pieces, and segregate spoons and forks from knives, mitigating the risk of surface scratches.

May your enjoyment of this flatware be unparalleled, with the knowledge that it is well-cared for and cherished.
Please note that PO Boxes, AOP, FPO, and DPO addresses are not eligible. (Orders shipping to a PO Box cannot ship via any express method.)
When will my order be processed?
All orders will be dispatched within 2 - 3 business days. Please let us know if you have special circumstances or requirements. (You can leave us a message during the process of adding an item to the cart).
Which countries can packages be shipped to?
We currently only ship in the CONTINENTAL U.S. (excluding Alaska), UK, and some European countries.
How long will it take for my order to arrive and how much is the cost?
We offer Free Shipping Worldwide.
Usually, it takes approximately 5 - 8 business days for US customers, 10 - 15 business days for international customers. Please be aware that we have no control over the shipping process as shipments can occasionally be delayed due to unforeseen circumstances.
Please verify your shipping address eligibility during check out. We are not responsible for any invalid or undeliverable address. If the order is returned because of an invalid address or unclaimed after holding period and returned, the shipping cost will not be refunded when they are requested to be refunded. For security purposes, we're unable to redirect the package once it has been shipped. 
How can I track my package?
Once your order has been dispatched, you will receive an email with a tracking number and a link to track your parcel. Please note that it might take from 1 to 3 business days for tracking to start showing information. Once the package gets taken from us, it travels to the logistics center, where it gets scanned and starts updating tracking status, and it is not unusual for a shipment to go more than 24 hours without an update while in transit.
You can track your parcel at Track Order or at 17track.net.
Tax and duty
Duties, and taxes, are not included in the item price or shipping cost. This means that you may need to pay the corresponding tax according to your local tax policy when you pay the order bill, or you may need to pay duties and taxes after receiving the order.
Import taxes, duties, and related customs fees may be charged once your order arrives at its final destination, which is determined by your local customs office. Payment of these charges and taxes is your responsibility and will not be covered by us.
We are not responsible for delays caused by the customs department in your country. For further details of the charges, please contact your local customs office.
Contact Lemeya if you have any questions
For customer support, please email us via Hello@lemeya.com
Cancellation
We accept order cancellation before the product is shipped or produced. If you want to cancel your order, please contact us at Hello@lemeya.com  within 2 hours after you placed the order by sending us an email from your registration email. If the order is cancelled you will get a full refund. We cannot cancel the order if the product has already been shipped out.
Returns
We allow for a 30 days Warranty Period upon the receipt of your order. If the product you received is damaged or incorrect, please contact us ( Hello@lemeya.com ) within 30 days upon receipt of your items together with a photo of the damaged or incorrect item as well.

For non-quality related issues, we require you to return directly to our warehouse to minimize any extra middle transportation, as we encourage decline in energy consumption of transport, an important environmentally friendly practice, reduce pollution caused by delivery, cut down all unnecessary spending and invest more in optimizing price and improving quality. Therefore, We don't provide trial service and discourage unnecessary shipments for the goal of sustainability. We appreciate your understanding that returns in this situation are not free. 

In pursuit of our goal of being sustainable, we sincerely suggest you check products' details and make sure the product matches for you before you decide to buy, reducing unnecessary shipments and pollution. We add many real life photos and portraits pictures on our website and provide product details for your reference. Please check and read carefully to ensure the fit before payment. 

Though we have critical standards on our quality requirements and every package was carefully checked before shipping, problems may occur at times during shipment. For any quality problem or our ignorance during shipment, please do not hesitate to get in touch with us, we will put our efforts to solve and provide solutions for your satisfaction. 

Let's take some actions together, big and small, for sustainable living and for the good of our planet. We appreciate your kind understanding and great support. Please contact Hello@lemeya.com  for return validation and make sure to follow the return instructions, we will provide a return shipping address after confirmation.
Refunds
Once we receive and confirm your returned item, we will send you an email to notify you. We will also notify you of the approval or rejection of your refund. We will deduct $8 to cover the restocking fee for each standard shipping item. Please allow up to 7-9 business days for your refund to be processed. Refunds may be issued to the credit card or PayPal account only that used to make the original purchase. 

Please note that shipping costs and any duties or fees are not refundable. The extra shipping costs are non-refundable once the package has been shipped. You are responsible for paying these fees and we're unable to waive or refund them, even if the order is returned back to us. Once we received and confirmed your returned item, we will send you an email to notify you that we have received your returned item.
Late or missing refunds
If you haven't received a refund after a few days, please contact your credit card company because it may take some time before your refund is officially posted. If you've done all these steps and still haven't received the refund. Please contact Hello@lemeya.com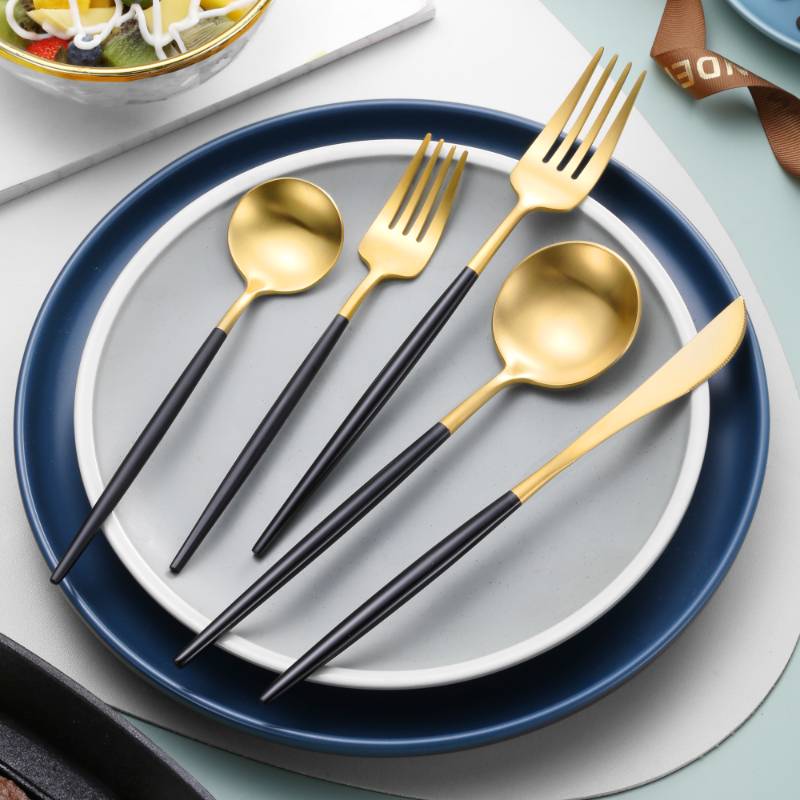 Sturdy, Durable & Nice Weight
Experience Unparalleled Sophistication and Durability with our Top-Grade 18-10 Stainless Steel Flatware Collection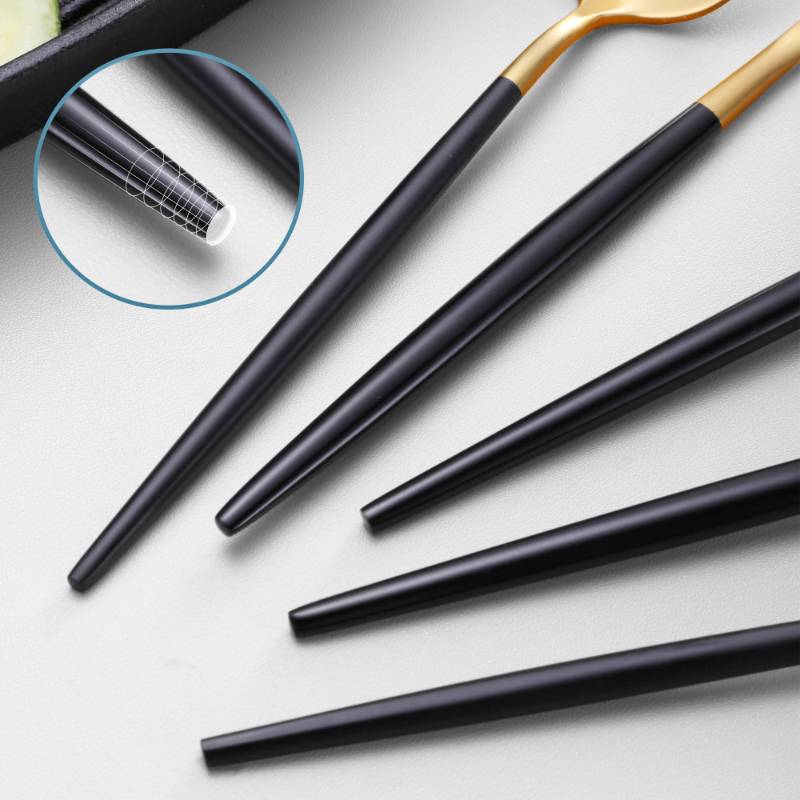 Graceful Line Design
Embrace Modern Elegance with Well-Balanced Proportions and Innovative Design.
Im so fancy. You already knowwwww
Every time we have people over they compliment our silver wear. It is definitely a conversation piece. Theyre heavy and so sturdy. I bought two sets and they are holding up beautifully.
Obsessed!!!
Im obsessed with these!!! They have a good amount of weight to them which speaks to the quality. The pictures dont do them justice. Theyre just beautiful! I washed them by hand and dried them right away, I didnt want to risk tarnishing the bronze. But they are a great statement piece.
Still waiting my order...a VERY long time
Still waiting my order... a VERY long time.
I have not used the set yet but appearance is awesome. Great compliment to my dinnerware.
Beautiful but horrible
I bought these for someone for a gift. They are stunning but not made for eating. The handle is to thin to grip while eating and slips. They would be good for dressing a table.